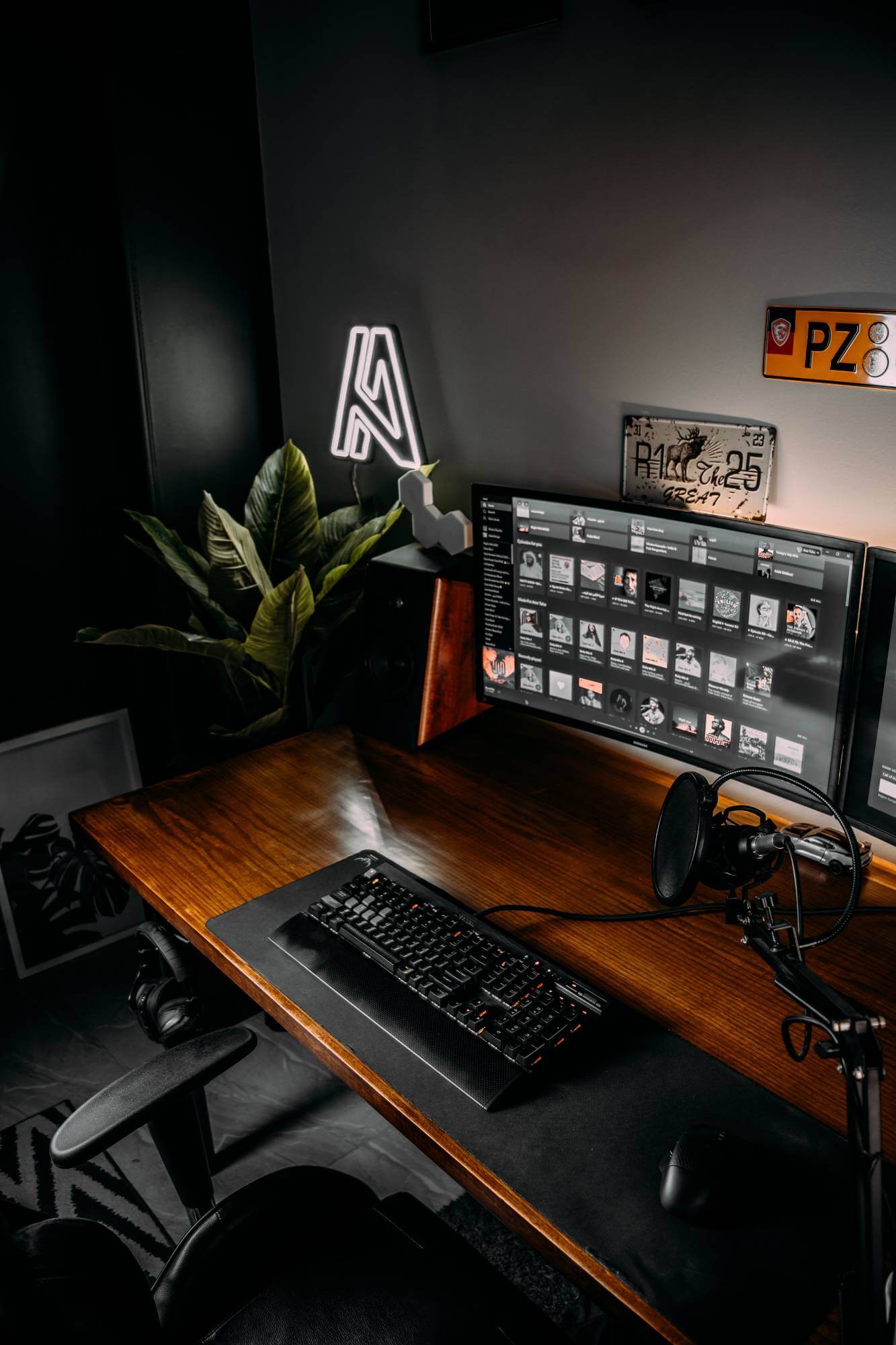 Moody Workspace in Cairo, Egypt
"Black is my favourite colour"

Name: Amr Taha
Location: Cairo, Egypt
Occupation: Interior Designer / Product Photographer
Room size: 6 m² (64,5 ft²)
Cost of the setup: "Hard to estimate as it has developed over four years"
Social media: Instagram
Website: Unsplash
Hello! Tell us a bit about yourself
Hi! I'm Amr from Egypt, and I'm 27 years old.
I'm a 3D artist and interior designer.
Over the years, my passion led me to do gigs on freelance websites until I've had enough experience to collaborate with private clients.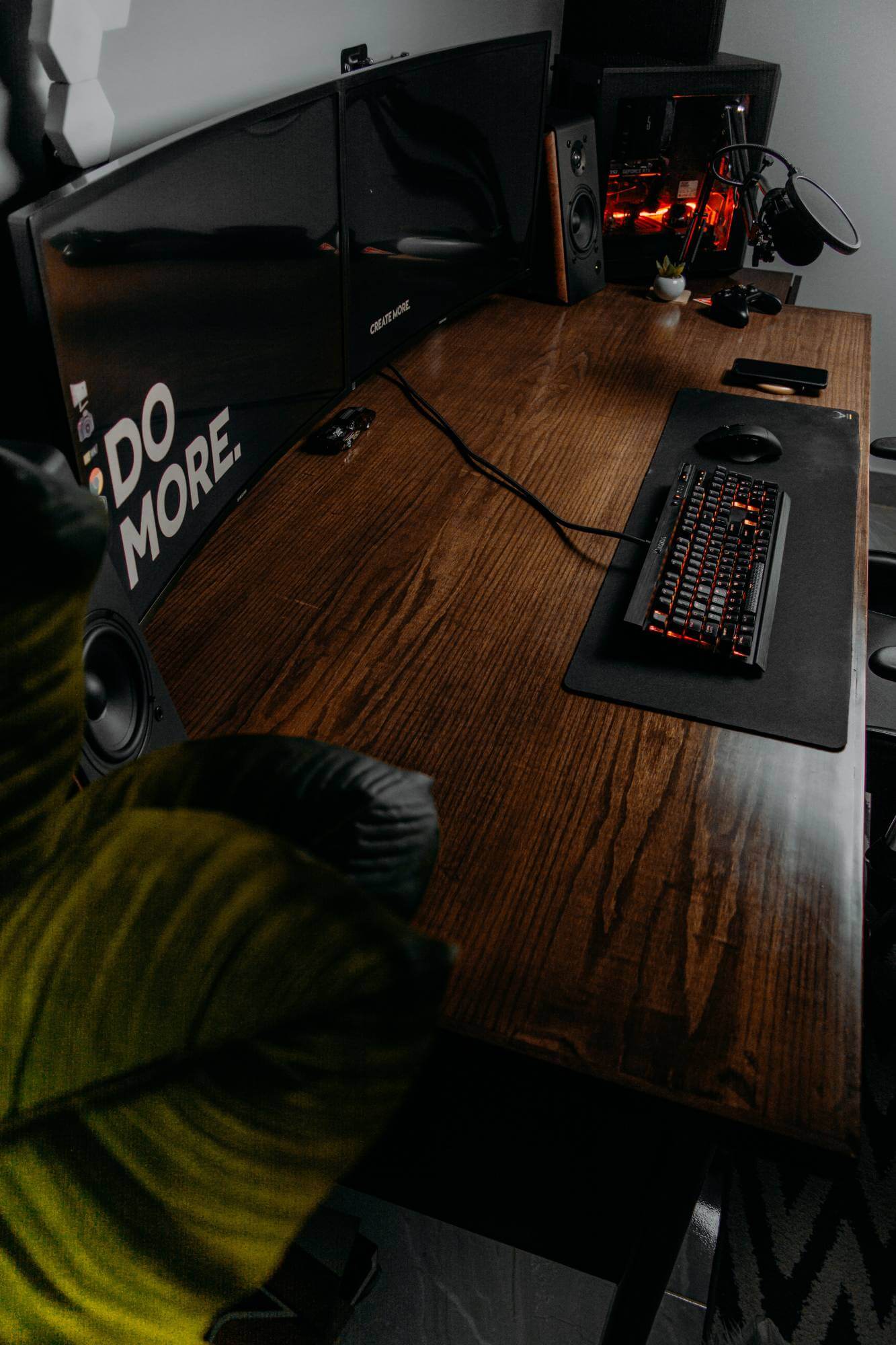 Not so long ago, I bought my first camera body and started doing photography professionally.
After some time, I became interested in product photography specifically, built up a portfolio and got a decent number of clients.
That's how my second hobby turned into a career.
Take us through your setup
It took me so many years to create this workspace.
I started building it in 2014 when I was a student. I had to use starter computer parts and budget components. The first version of my setup was located in a tiny bedroom.
Then I got married and moved to my own house.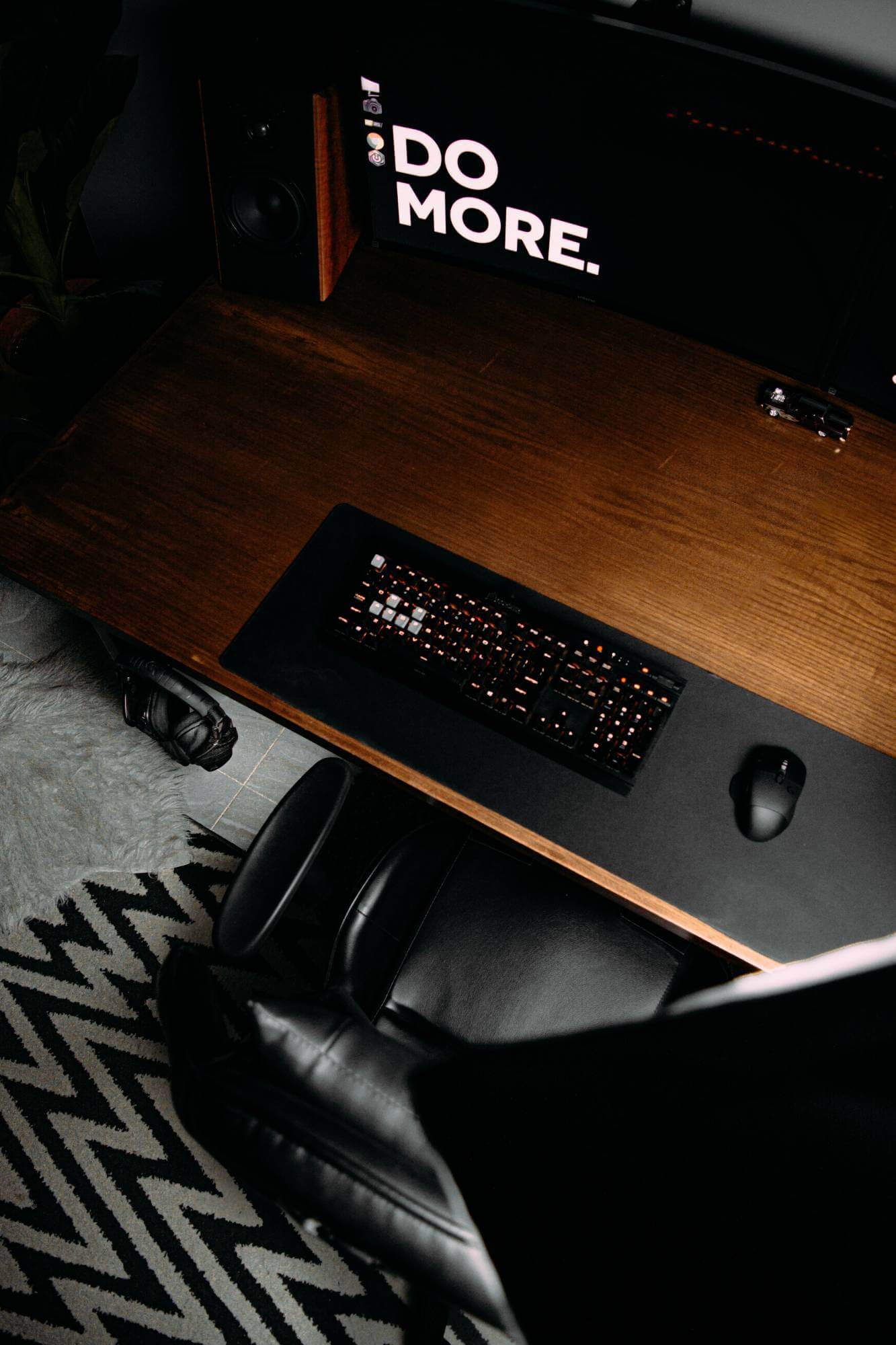 My office is in a tiny partition in the main hall.
Since the space in my house is a bit limited, having a whole room for the home office wasn't an option at all. So I divided the space with natural rail wooden doors.
The workspace is three by two metres. It's got a decent window that gives some natural light and air to come through.
The space is not huge, but the amount of lighting is just fine for me.
Let's say it's good enough to do my indoor photography sessions with just the window opened (no softboxes or flashlights required).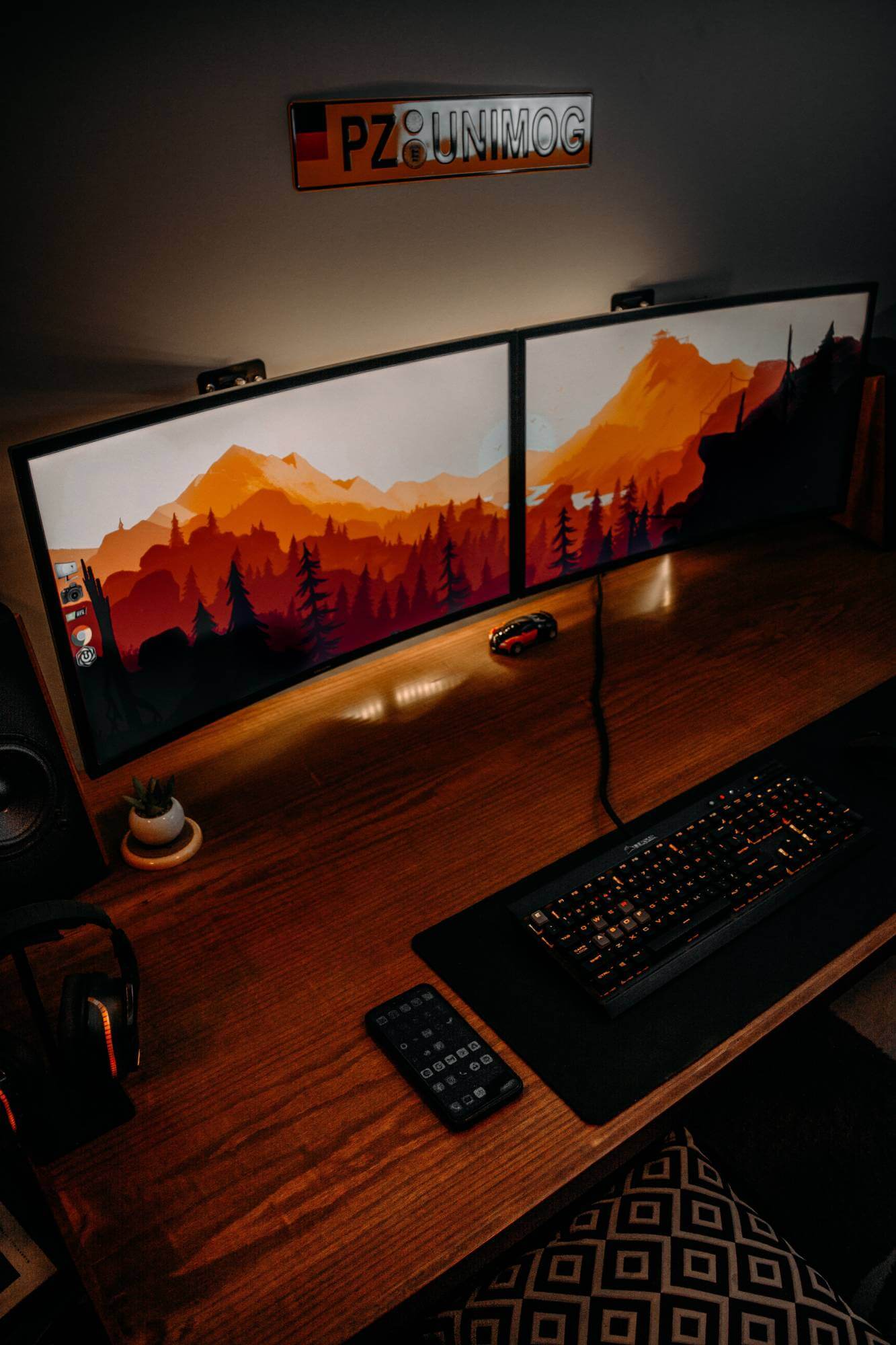 My workspace is dark, moody, and minimal. It features earthy tones and rich wood textures. You immediately feel the warmth and cosiness.
Black is my favourite colour.
Since I prefer dark hues, it's no surprise that black was the colour of choice for most of the walls.
I carefully selected every single lamp in my office. All the lamps are warm-toned, not fluorescent white. They add to the room's warmth and make the wood textures pop.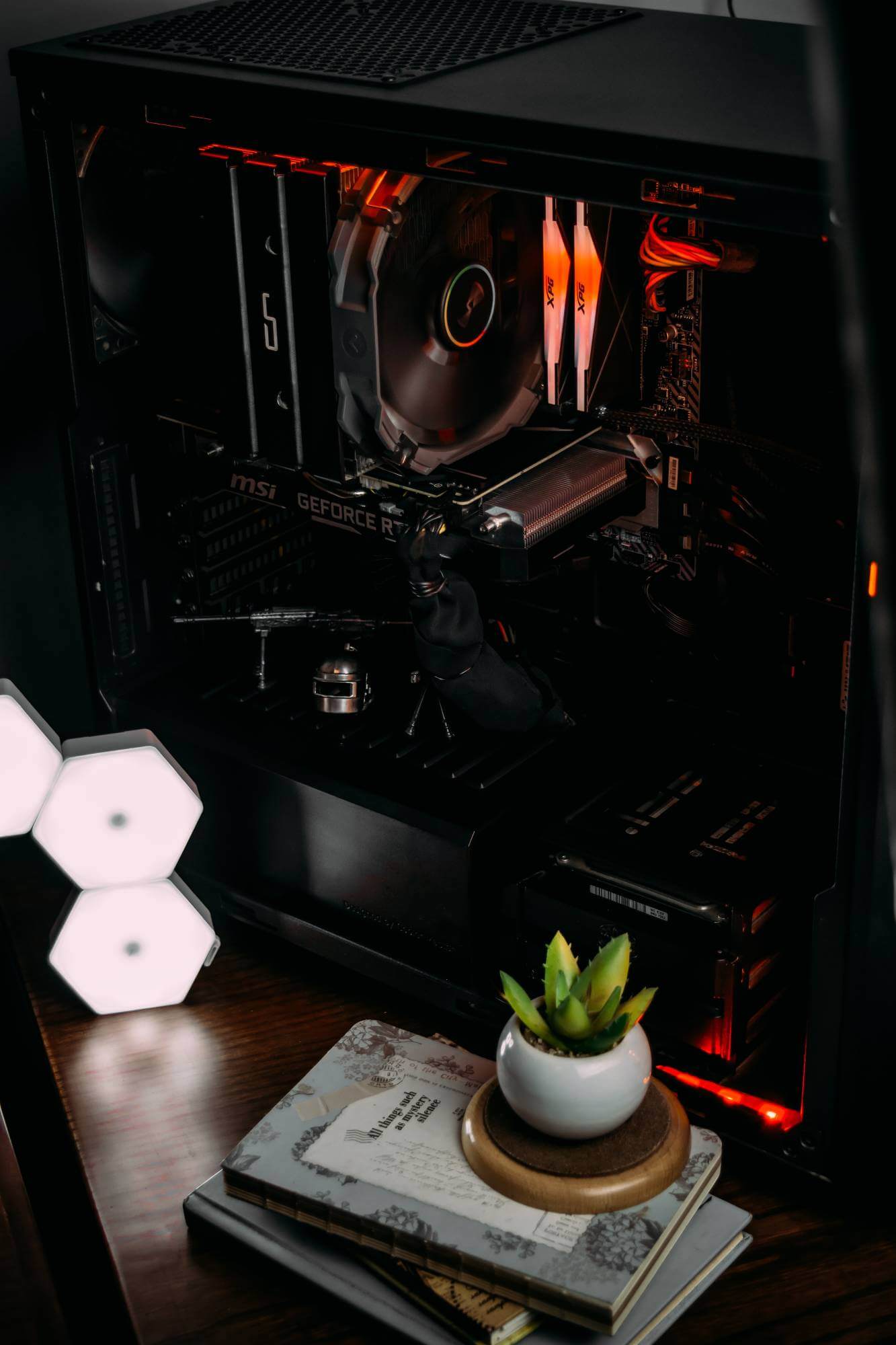 The desk is a DIY one made from Swedish wood with a walnut finish. A separate drawer unit that my case rests in the MasterBox 5 from Cooler Master. It's rigged with MSI MAG B550 Mortar, i5 10600K from Intel, XPG Spectrex 16GB, and Nvidia's RTX 2060 Super.
Not a hell of a rig, but I'm not that crazy guy who replaces all PC parts every year.
As long as it gets things done, I'm good.
I've got two Samsung monitors on my desktop. Since the monitors are curved, I used two TV wall mounts with articulating arms to make the screens perfectly aligned.
The extended mouse pad is a Corsair MM20. My keyboard is a K70 LUX, and my mouse is a wireless G604 from Logitech.
I've got three wooden shelves on my black wall where I store coffee accessories and related products that I use daily.
These shelves are hand-made to match the colour and material of my desk.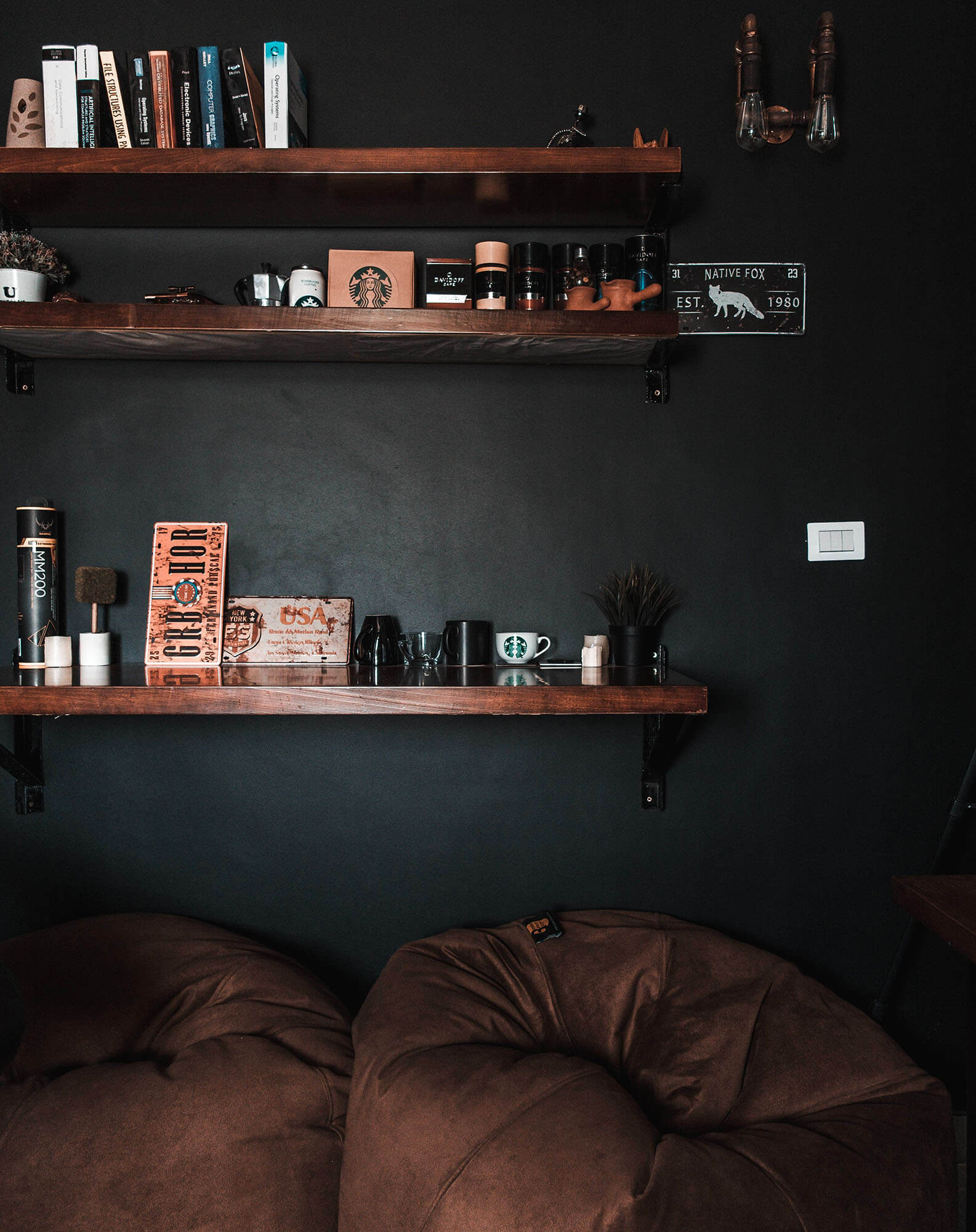 On that side of my setup, I've got a brown leather bar chair with a comfy pillow.
Two or three times a day I come here to sit, relax, have some coffee, clear my head and recharge.
I love minimalist things.
The simplicity is what I appreciate the most about my wall frames. My friend made them by hand, so they're extra special to me.
As a big fan of black & white photography, minimal art, and inspirational quotes, I'm happy that I managed to combine all three into my little wall gallery.
The next thing I'll get is probably going to be an ultra-wide monitor to replace my old Samsung dual monitor system.
Although they look great, these monitors are five years old.
What's your favourite item on your desk?
The sound monitors (or speakers) because they complement my workspace with their wooden and black accents.
I believe they give my desk setup a more elegant, cosy, and premium feel.
I get the question "Wow, are these Edifiers?" a lot. But no, they're commercial speakers. Their build and sound totally blew me away.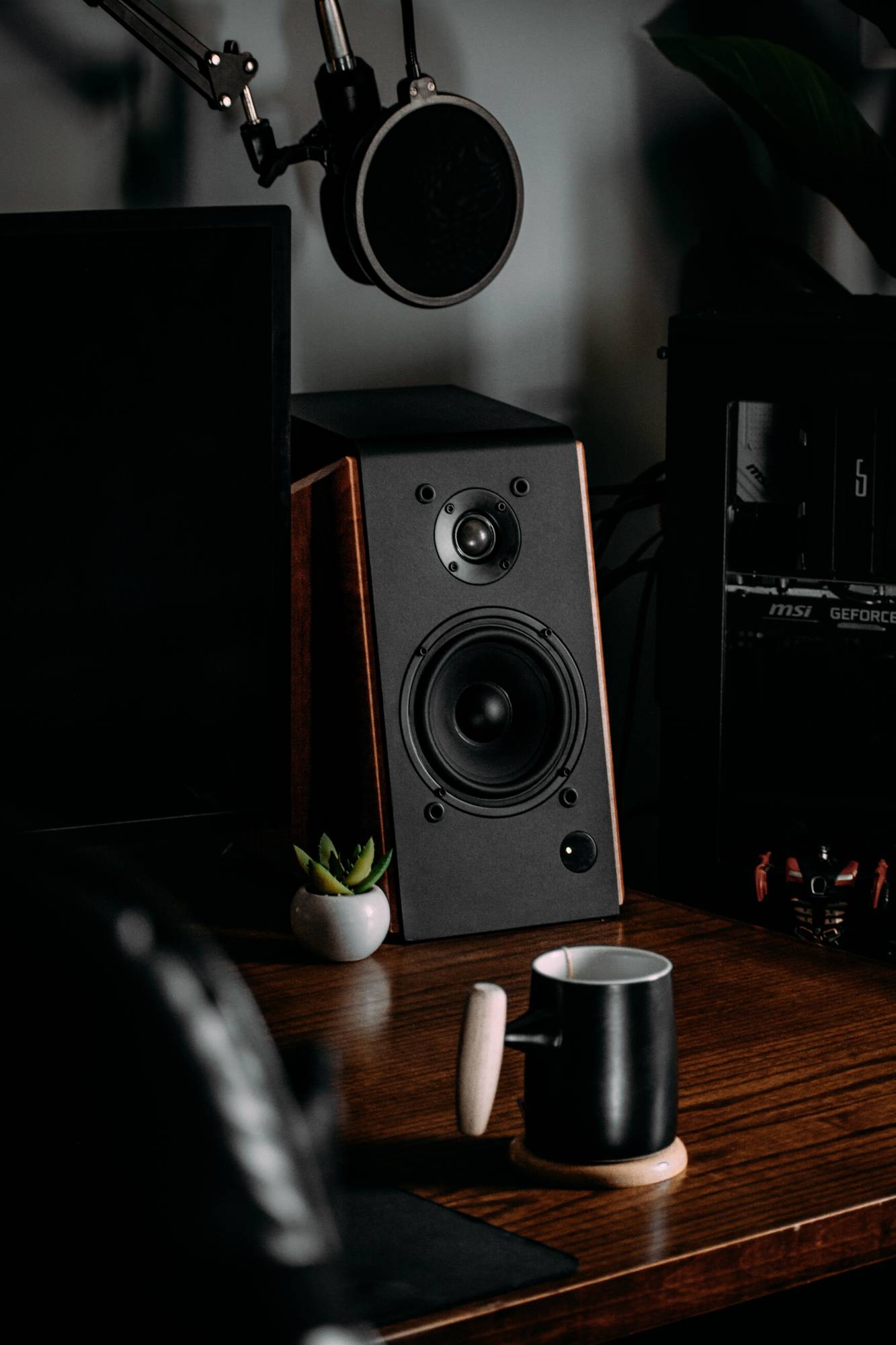 After a long search, I came across these monitors, and they turned out to be perfect for my needs.
They cost me only about $127 in a local hypermarket.
What apps or tools do you use to get things done?
I use the Spotify app first thing in the morning: when I'm getting ready for work and having a little cup of coffee.
90% of the playlists in my Spotify library are chill tunes. Winter ambient sounds, summer chill beats, autumn acoustic, work concentration, and study vibes.
Lo-fi beats just put me in the right mood.
I've got some other playlists as well, like top hits or daily releases, but they sometimes confuse me or make me nervous when I'm working.
When it comes to 3D work, my go-to app is Blender. I use it for modelling, rendering and pretty much everything else that is 3D-related.
Photography-wise, I also use Adobe Lightroom for sure and a bit of Photoshop.
Any tips for other makers who want to improve their workspaces?
Just keep going.
No matter how small or cheap you start.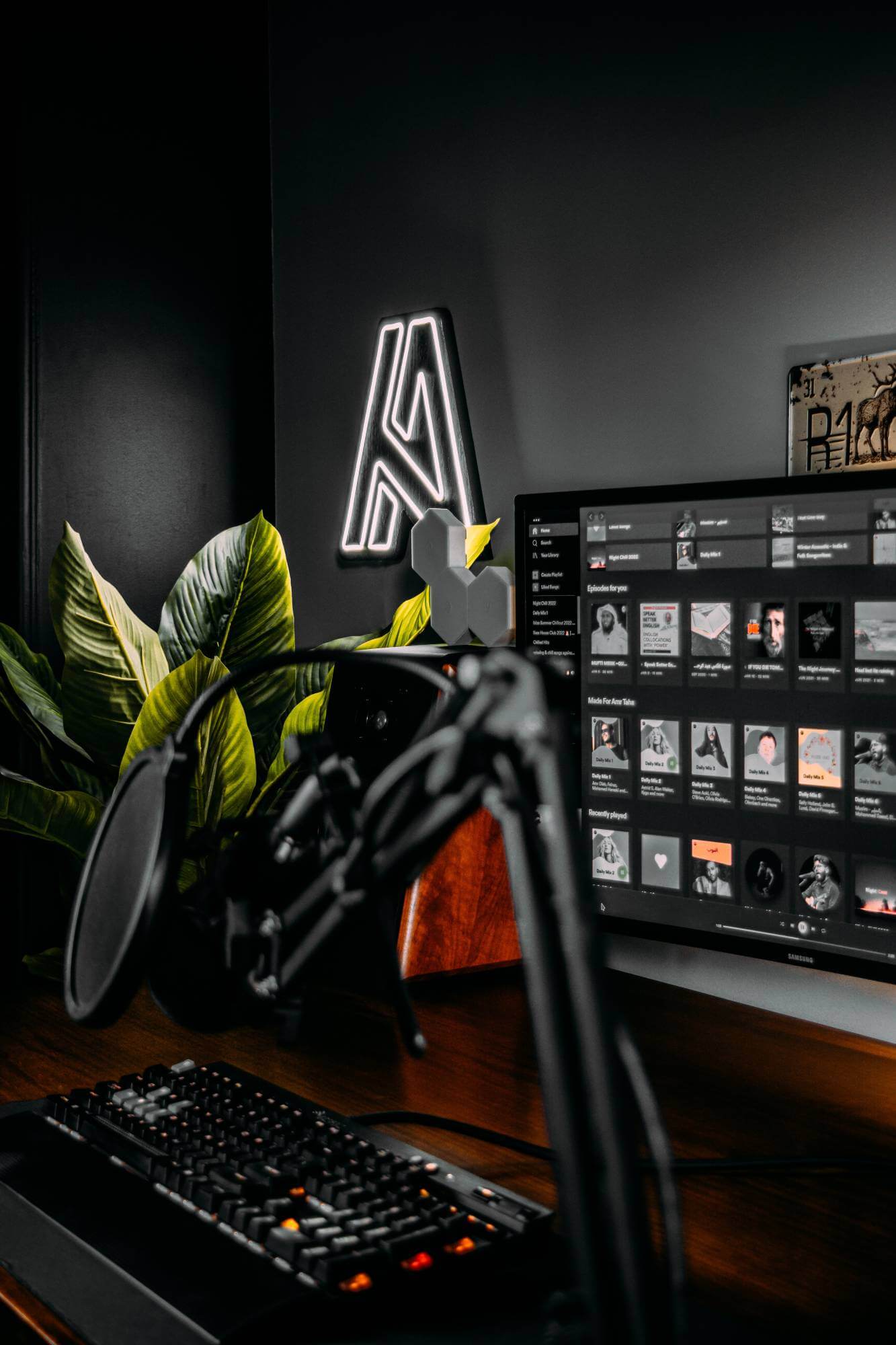 No matter how you achieve it, just keep going and going.
Keep improving yourself, even if it's just little steps every day, and you will be there.
What does your typical day look like?
My daily routine is to get up at 8 am and have a morning coffee, for sure.
Getting those "coffee refills" takes up a lot of my day, if not my life.
I even do coffee photography as part of my job.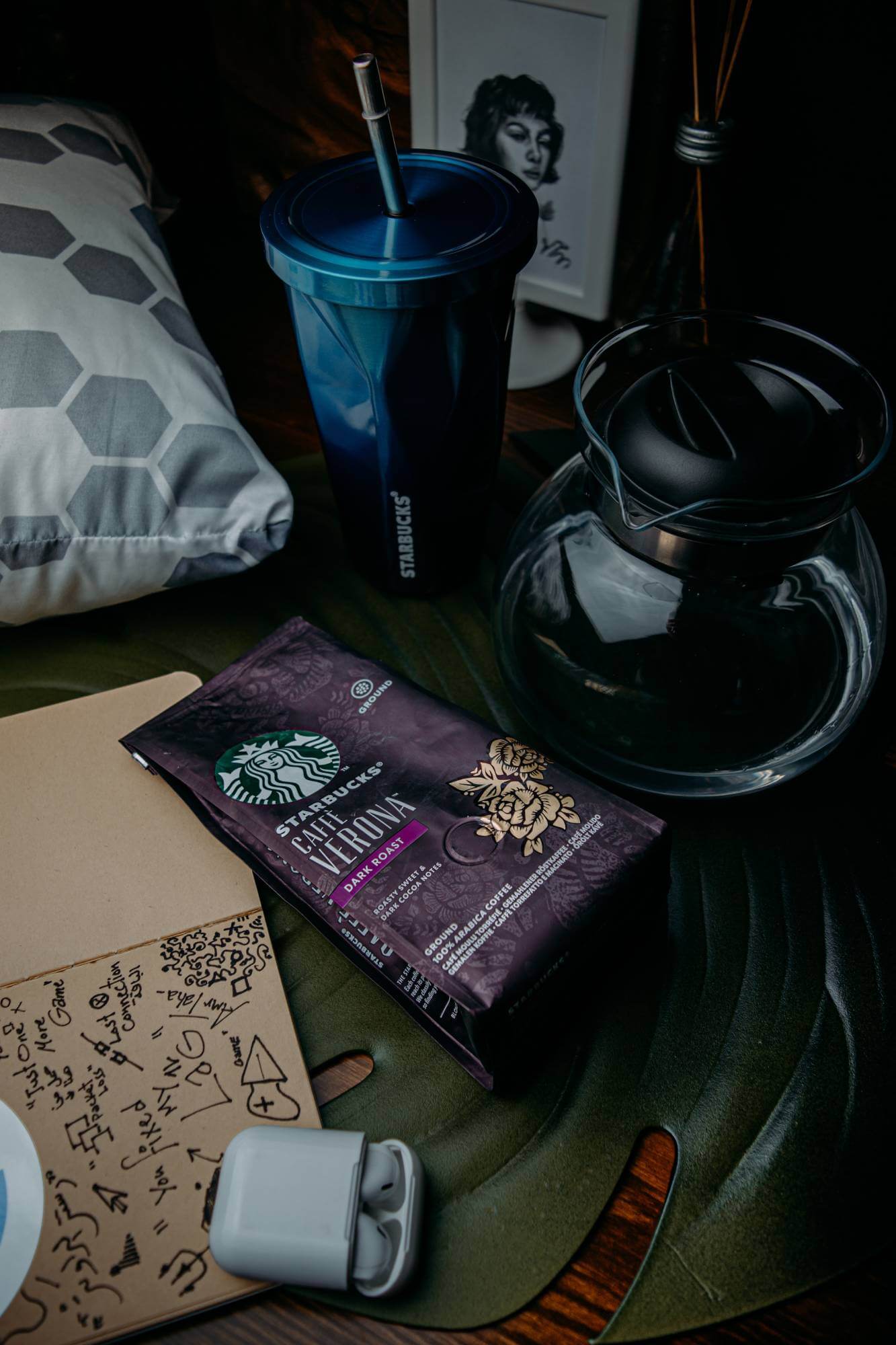 It seems like I took so many photos of coffee in different moods and styles that at some point the clients started calling me and saying, "Hey, looks like you're really into the coffee culture, that's what we need. Are you open to collaboration?"
After having a coffee, I check social media to know what's going on.
Then I open my Instagram to plan what to post for the day and commute by car to work. I work full-time in the sales department of a construction company.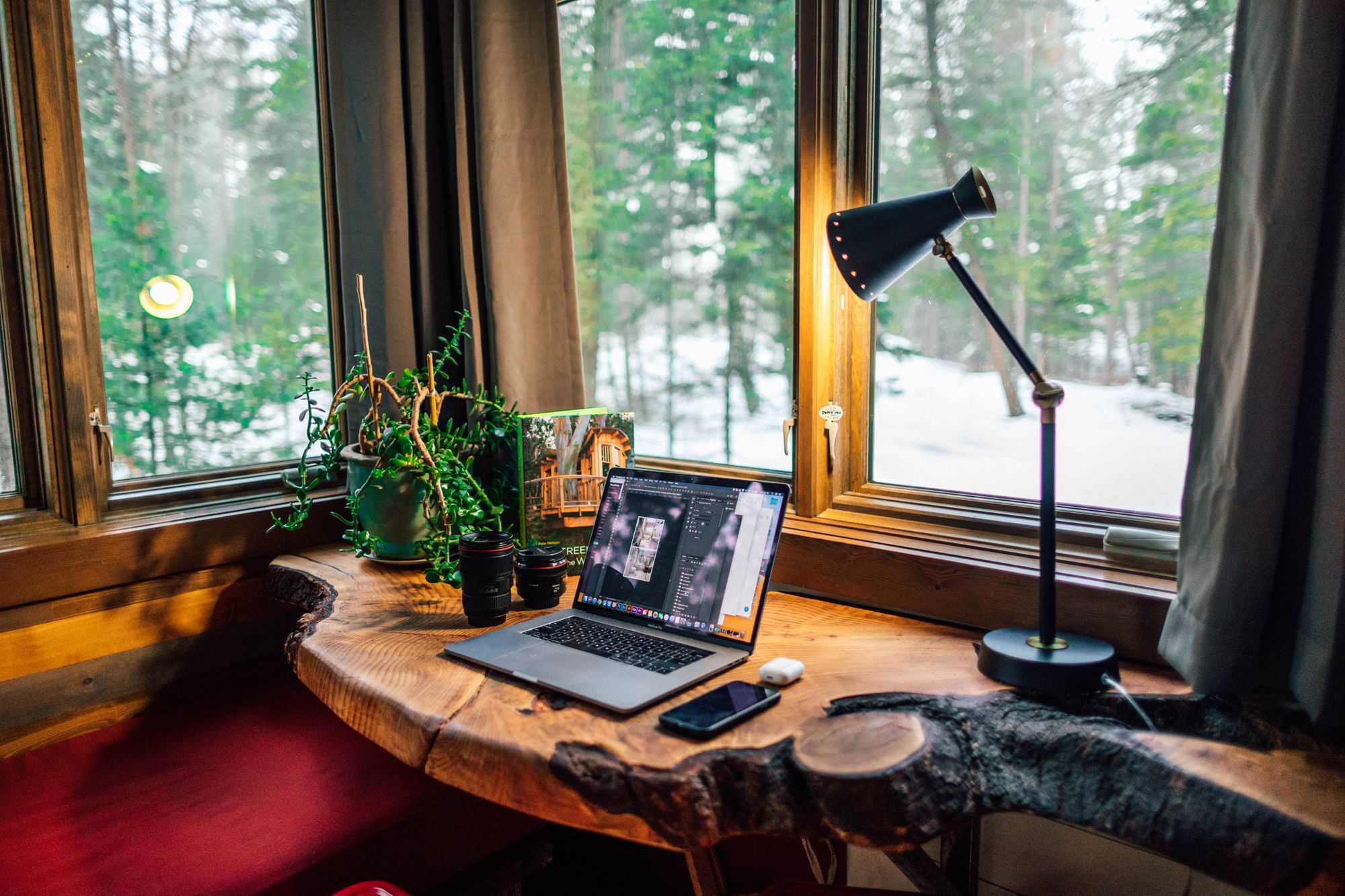 When I return home, I get some rest. Then it's time for some creative work, for instance doing 3D designs for clients, maybe shooting some products, etc.
Normally, I would spend two to three hours at my home desk unless there's a heavy workload going on.
Your tips for working from home?
If I work from home on freelance tasks, I prioritise the workload and move step by step.
Always stay calm and chill.
Make yourself comfortable because work from home sessions can take too much time. You don't want to get tired or bored very quickly.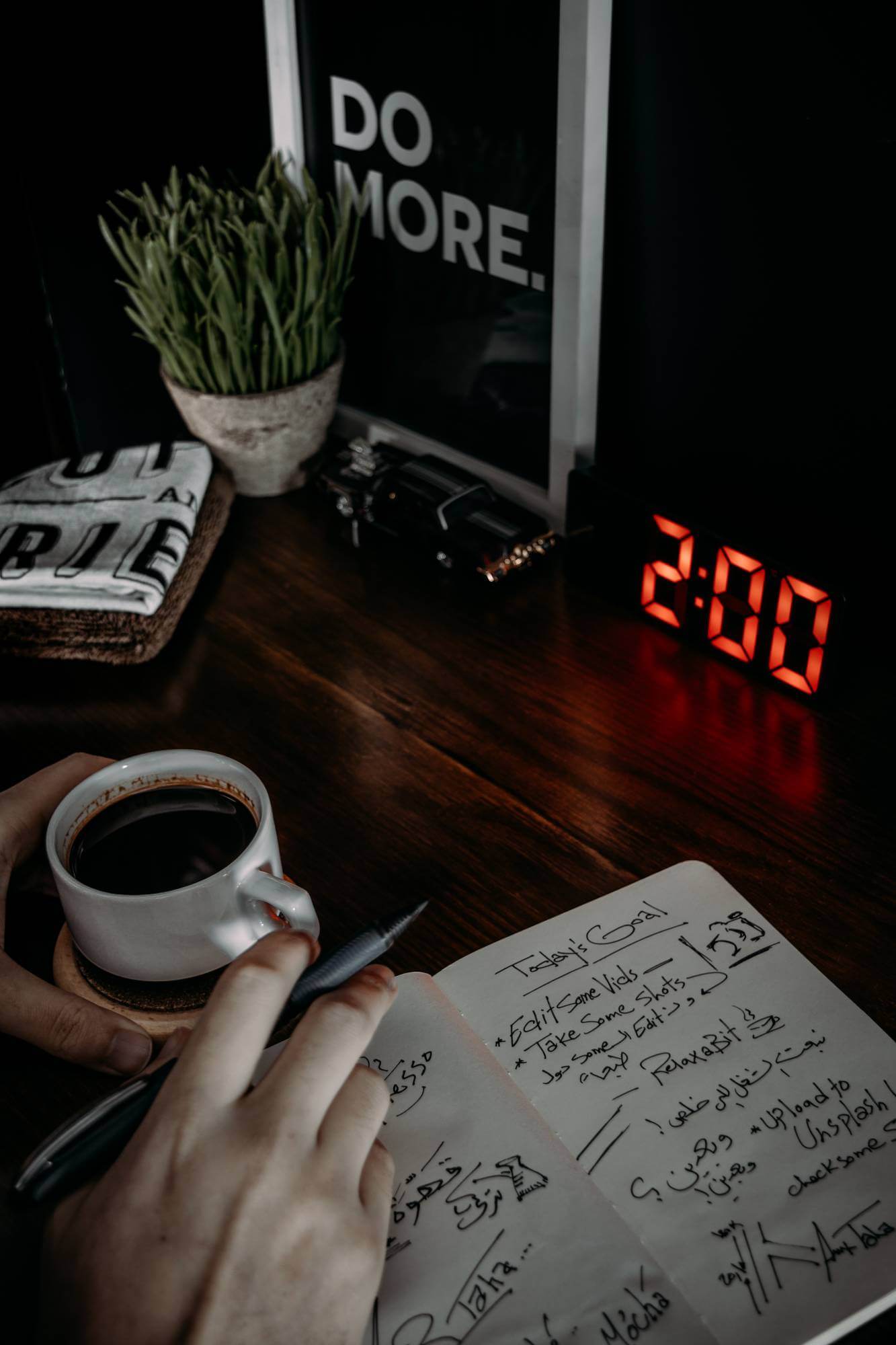 A quick tip. Before you begin working, take some time for yourself — about 15 to 30 minutes.
Have a walk around your home, stand in front of the window, or enjoy your favourite morning drink.
Chill your mind and give yourself some positive energy. That helps a lot for the rest of the day.
We're a reader-supported publication. This article might contain affiliate links. It means we may receive a commission if you click a link and buy a product that our maker has recommended. The interview was done independently.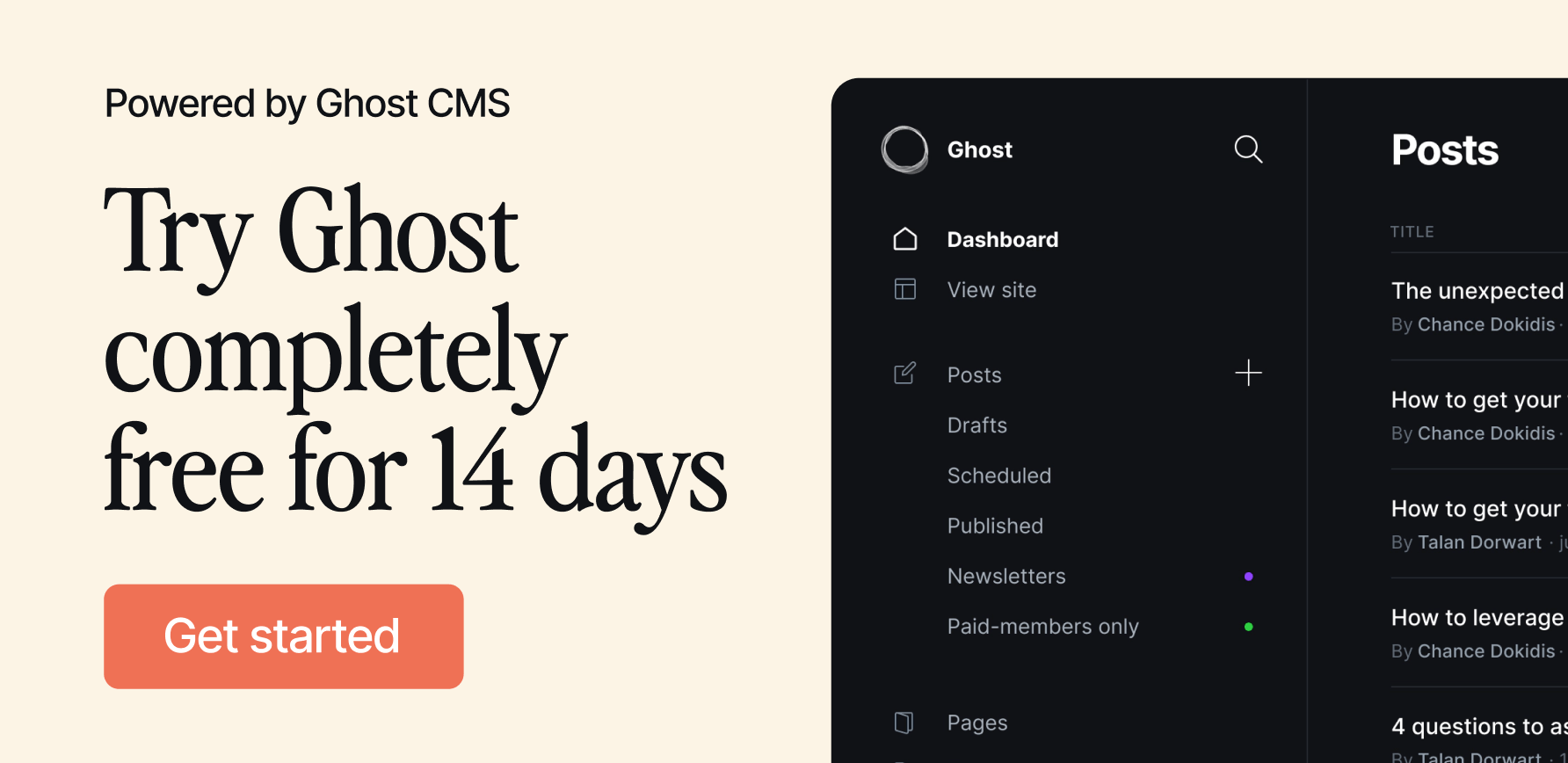 ---