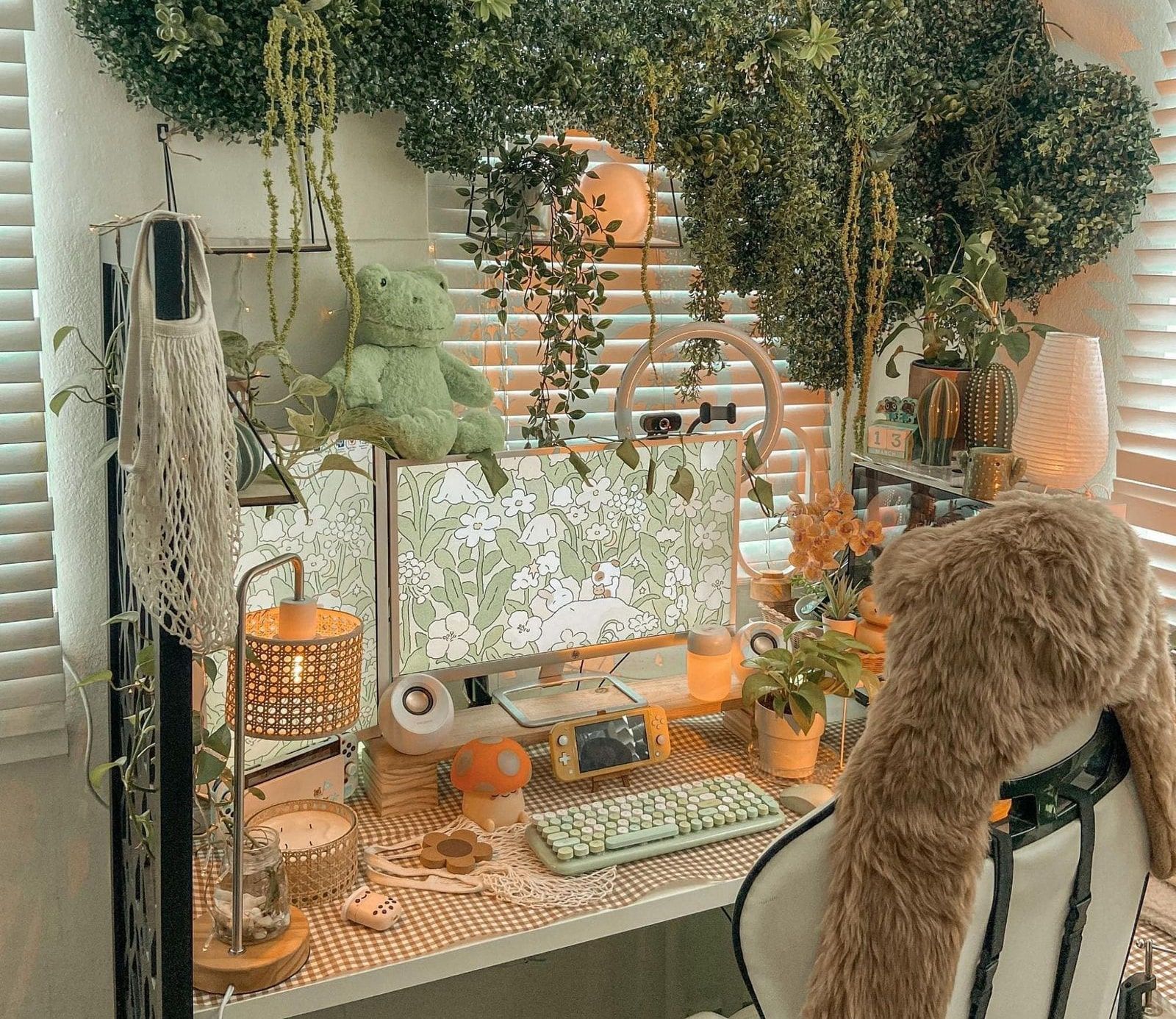 Cosy Studio Ghibli-Inspired Gaming Setup in Puerto Rico
"My room is a continuation of my cosy, plant-core setup"
What's Inside
Join 1000+ Curious Readers.
Every Sunday evening, get an *in-depth* workspace tour from a random corner of the world.
Name: Alissa Pabon
Location: Puerto Rico, US
Occupation: Gaming Content Creator, Twitch Streamer, Fashion Designer
Room size: 16,3 m² (175 ft²)
Cost of the setup: ~$3K
Social media: Instagram, TikTok, Twitter, Twitch
Hello! Tell us a bit about yourself
My name is Alissa. I'm a 24-year-old Latina from Puerto Rico.
I create gaming content and stream on Twitch. I also own a small apparel business.
I have a fine arts bachelor's degree in Fashion Design. It gives me a background in marketing, creativity, and trends. My degree also helps me see and appreciate things from an artist's perspective.
I fell in love with gaming content creation because it's an outlet for my creativity.
By doing something I love and enjoy, I can inspire others to find their own outlets, create their cosy spaces and develop unique lifestyles.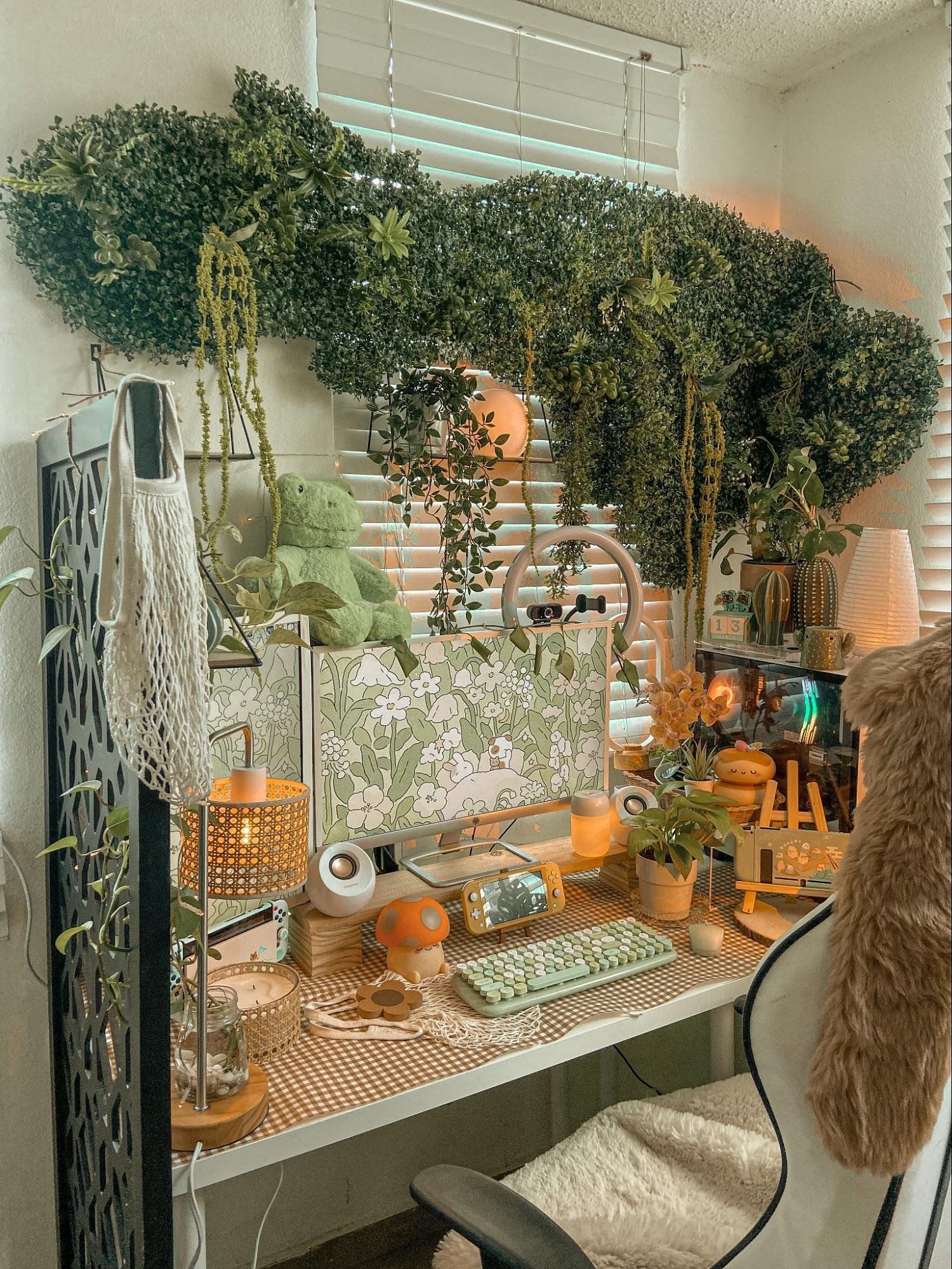 I've been playing video games as a hobby since I was a child. I've always gravitated to chill, cheerful games like Animal Crossing, Harvest Moon, Mario, Kirby, etc.
In 2020, the new Animal Crossing game came out, and I immediately got it and fell in love with it.
The COVID-19 pandemic started at that time, so I had some free time on my hands to spend on my hobby.
That's when I decided to create an Instagram account dedicated to Animal Crossing to share my love for the series.
It became my main focus as the whole world was put on hold for more than a year.
I got really into the gaming community and started watching gamers stream on Twitch.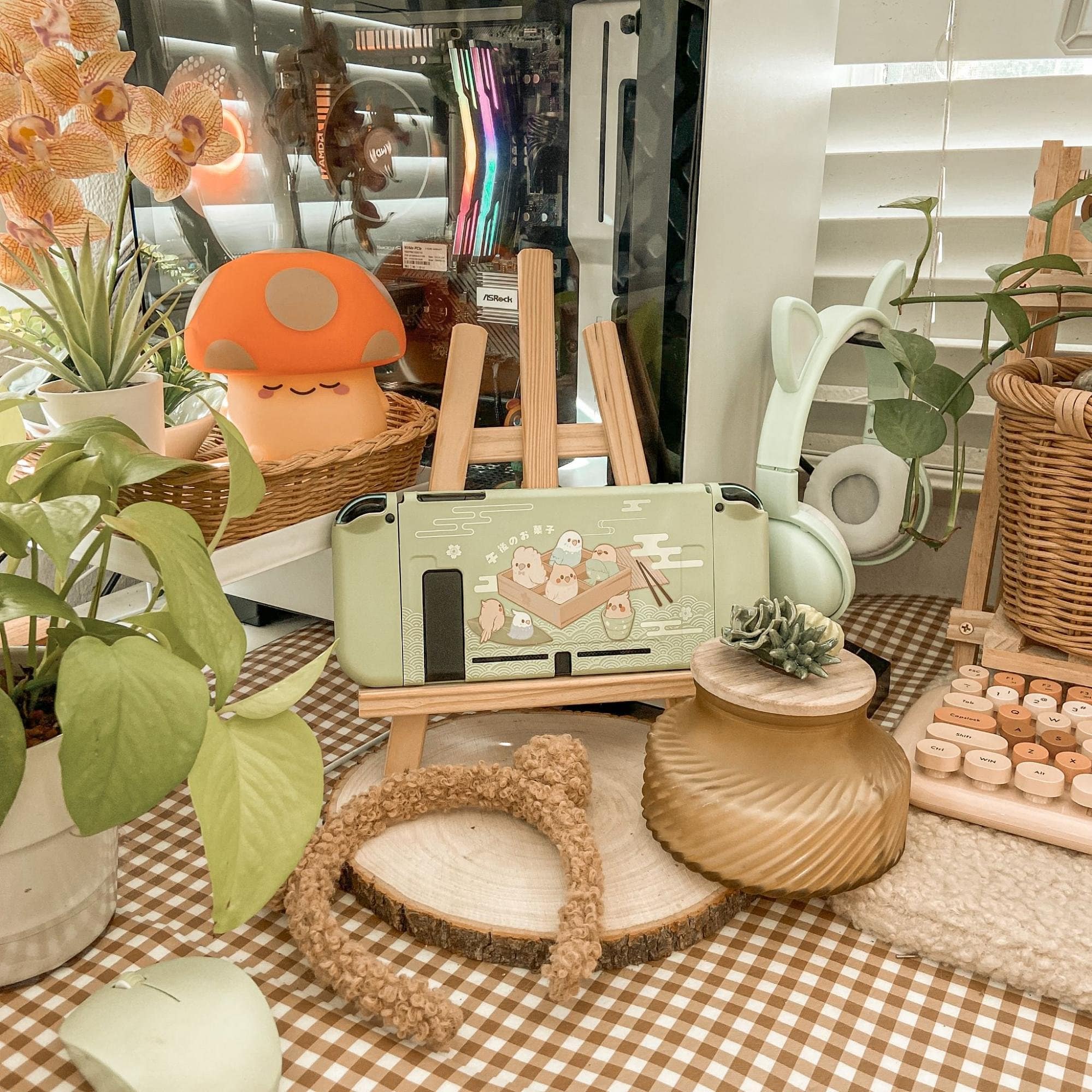 I wanted to share my love for gaming with a community that felt the same way.
It was important to belong to a group of people that shared my passion for gaming and cosy vibes while supporting one another.
At that time, I decided to buy my first PC setup so I could become a Twitch streamer on the side.
Eventually, I expanded my gaming content creation to more social platforms such as TikTok, YouTube, Twitter, and Pinterest.
Take us through your setup
The inspiration for my desk setup came from Studio Ghibli's aesthetics.
It all started with the key item in my space, the Moffi green keyboard. I built my whole setup around it.
Since I feel connected to the green colour, I made sure to use it as much as possible throughout my desk setup.
I also do love Studio Ghibli's animation cosy vibe so I decided to try to incorporate it into my space as well.
I was heavily inspired by The Secret World of Arrietty and Kiki's Delivery Service. That's why I added all those plants and natural things to my battlestation.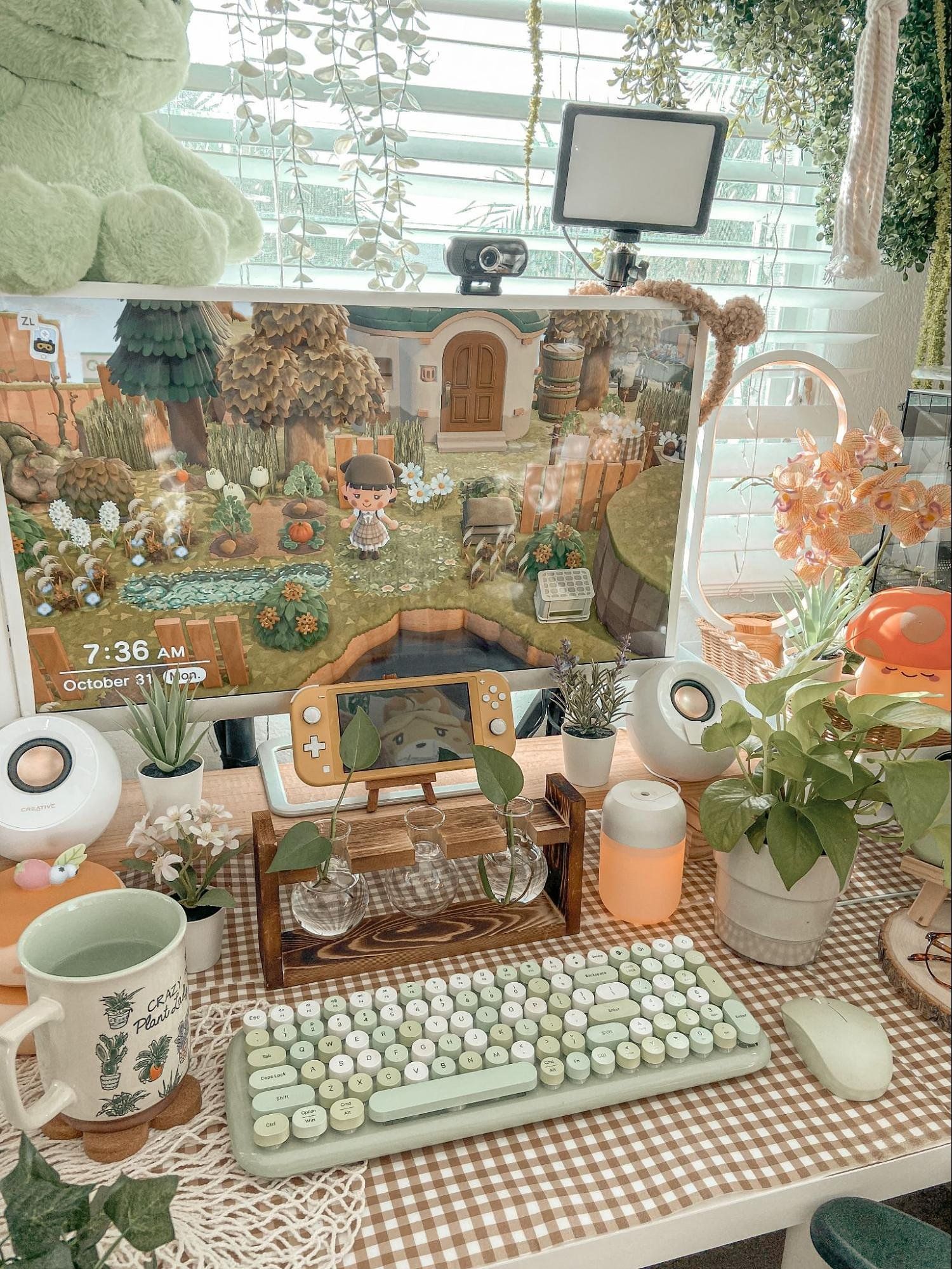 It took almost a year to create my space. I was buying things little by little with the income I was getting from content creation.
Another key item is an artificial moss wall I put above my desk. I have a YouTube video about how I made it, just in case you'd like to check it out.
I also have my PC, monitors, consoles I've had through the years, and gaming merchandise displayed in my setup. As an artist, I love to express and reveal the aesthetics of space.
My room is a continuation of my cosy, plant-core setup.
I would define the room aesthetics as boho and natural. I have a lot of wooden details, textured items, and many plants around.
I have a wooden plank bed frame which I made myself, a cosy nook with a chair macrame hammock, a low bench and some cushions, fairy lights and blankets.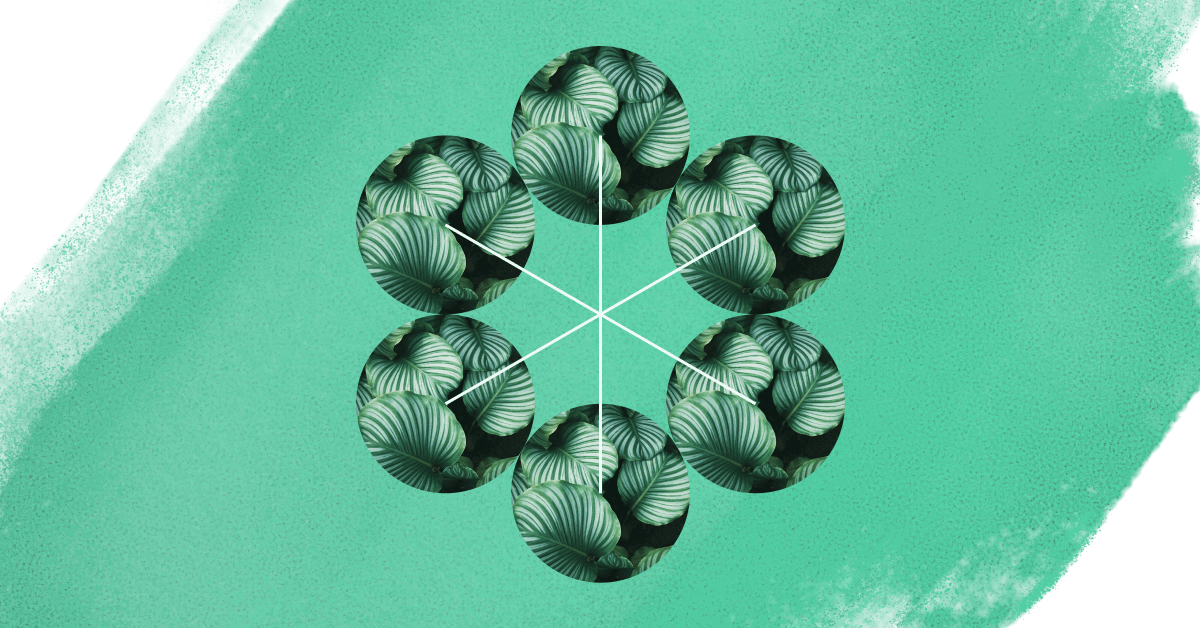 I also have a space on the wall above my bed that I can use to display my projector screen when watching movies, particularly Studio Ghibli ones.
Currently, I don't have more space to expand my desk setup and I haven't found a place of my own yet.
Once I get my own place, though, I'm definitely going to have a dedicated gaming room where I can stream, play, and create content.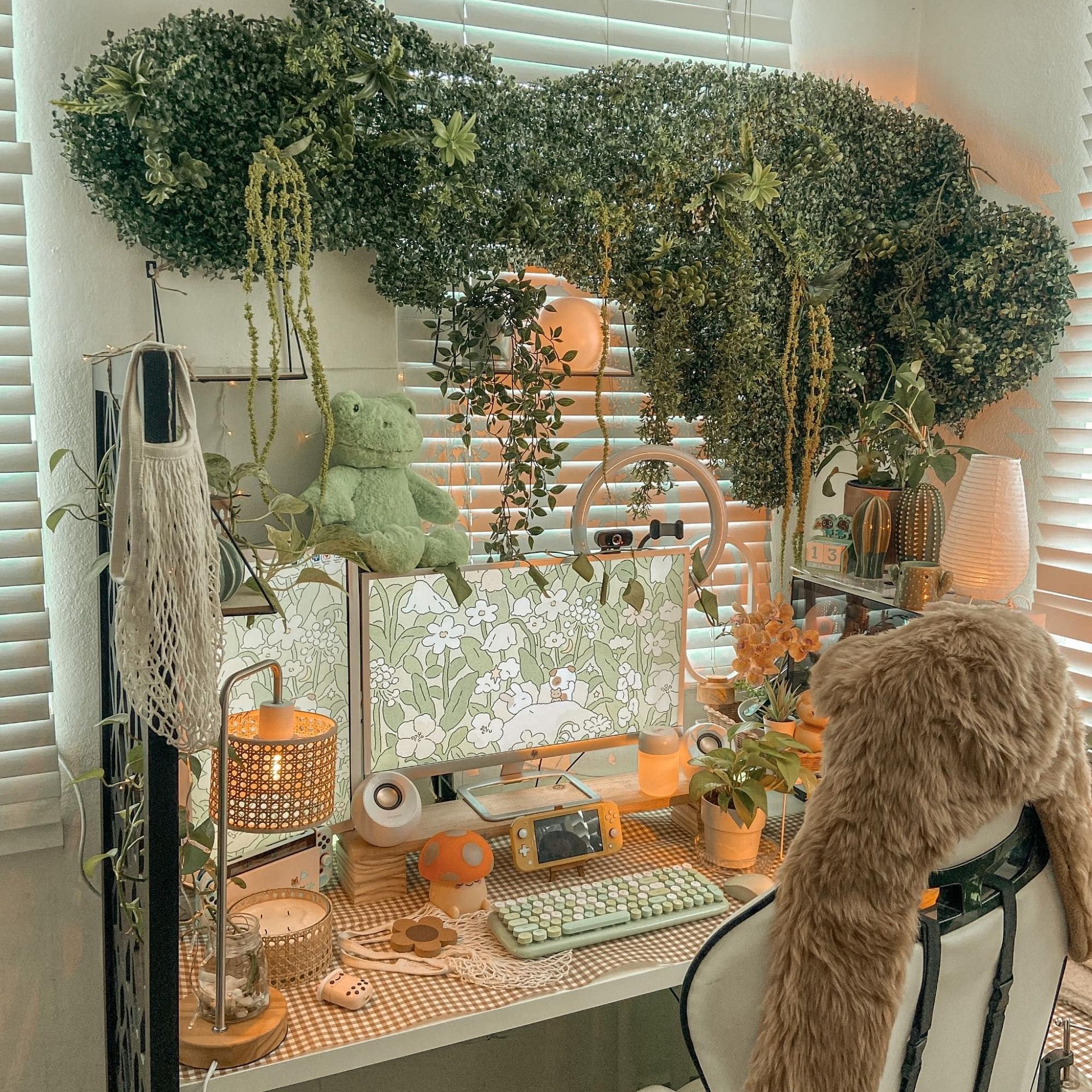 I'll keep adding things to make my space even cosier.
I want to hang some string lights from corner to corner around the ceiling. Plants and items that reflect sunlight, like suncatchers, are on my list as well.
I'm also keen on improving my streaming setup to create better content and level up my Twitch channel.
The next item I'm going to get would probably be the Elgato Stream Deck — it will make streaming easier. I'm also planning to add some Studio Ghibli-inspired decor to my PC case.
Keep an eye out on my YouTube and TikTok channels for work-in-progress content about all these improvements.
What's your favourite item on your desk?
My favourite item on my desk is a small wooden mushroom lamp.
It's very special to me.
It's the first-ever gift I've received from someone in my community, and it makes me feel appreciated.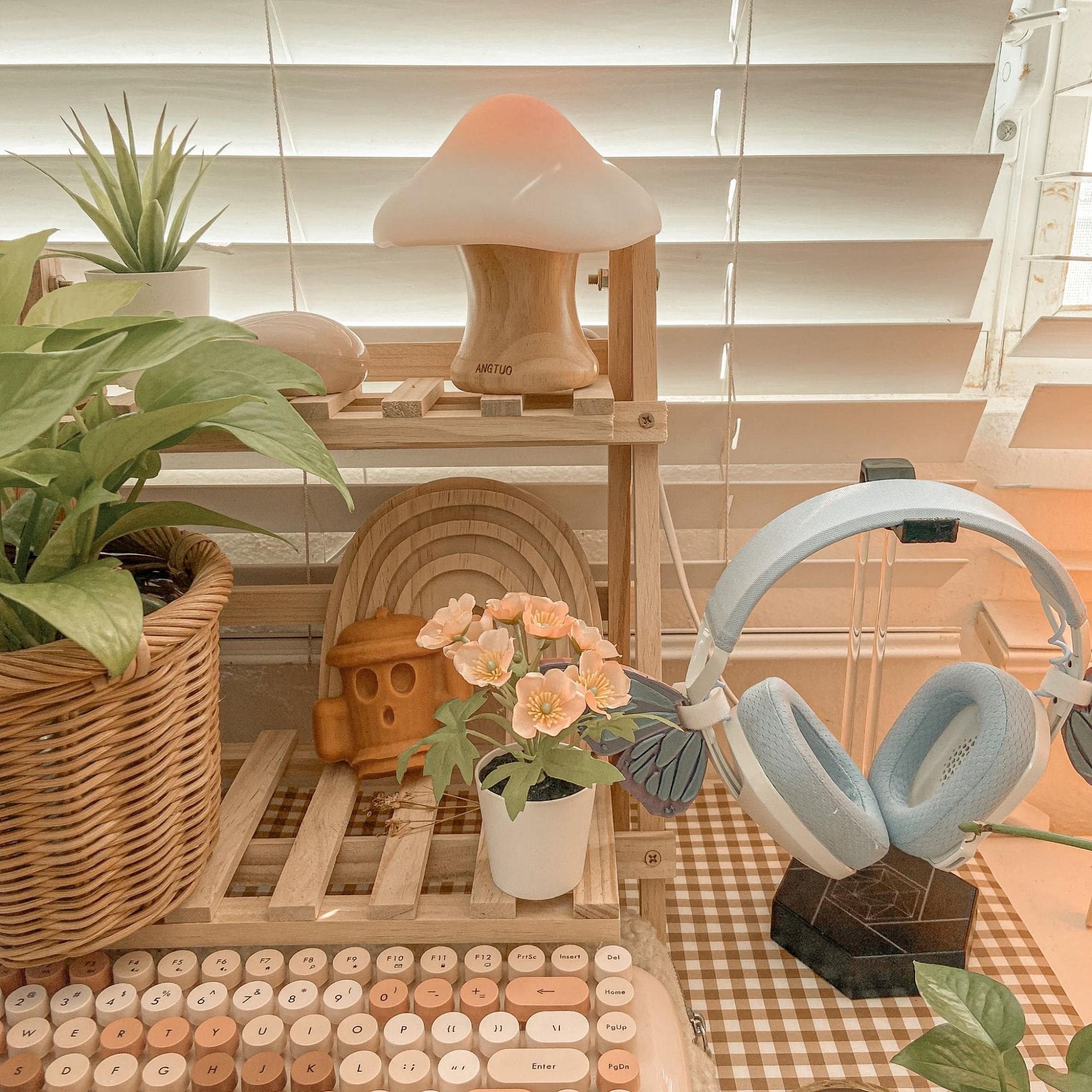 What apps or tools do you use to get things done?
I currently use Notion to keep track of things.
As a content creator, I have to come up with different content ideas for different platforms.
I like Notion because it's user-friendly, super easy to navigate, and allows plenty of customisation.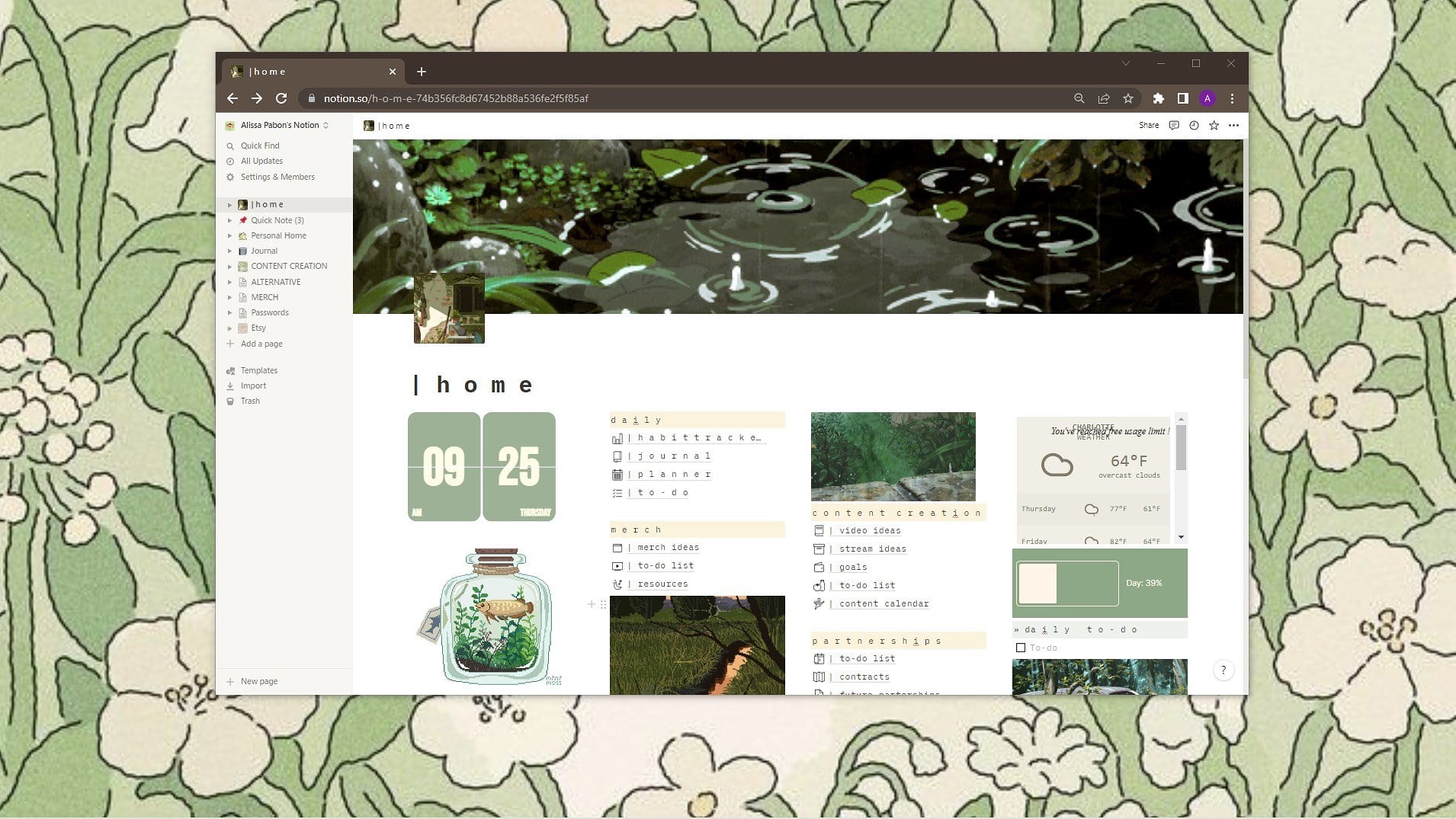 Any tips for other makers who want to improve their workspaces?
If you want to improve your desk setup, focus on what's comfortable for you. Make it fun to look at and use.
Working in a space you enjoy and feel like your own makes a big difference.
Don't let boredom take over your space.
Also, if you need inspiration for your desk setup, check out Pinterest, Instagram, TikTok, etc. There are so many amazing setups out there!
I'm sure you will find some to your liking.
What does your typical day look like?
As a part-time content creator, I mostly work from home.
I get up whenever I please, but I'm an early riser and early sleeper.
After I do my personal things when I wake up, I get a cup of coffee, eat some breakfast, check on my plants and then go through my socials and emails.
TikTok is definitely the first app I open in the morning. It's the one I'm most engaged in, and, as some of you may know, it's extremely addicting.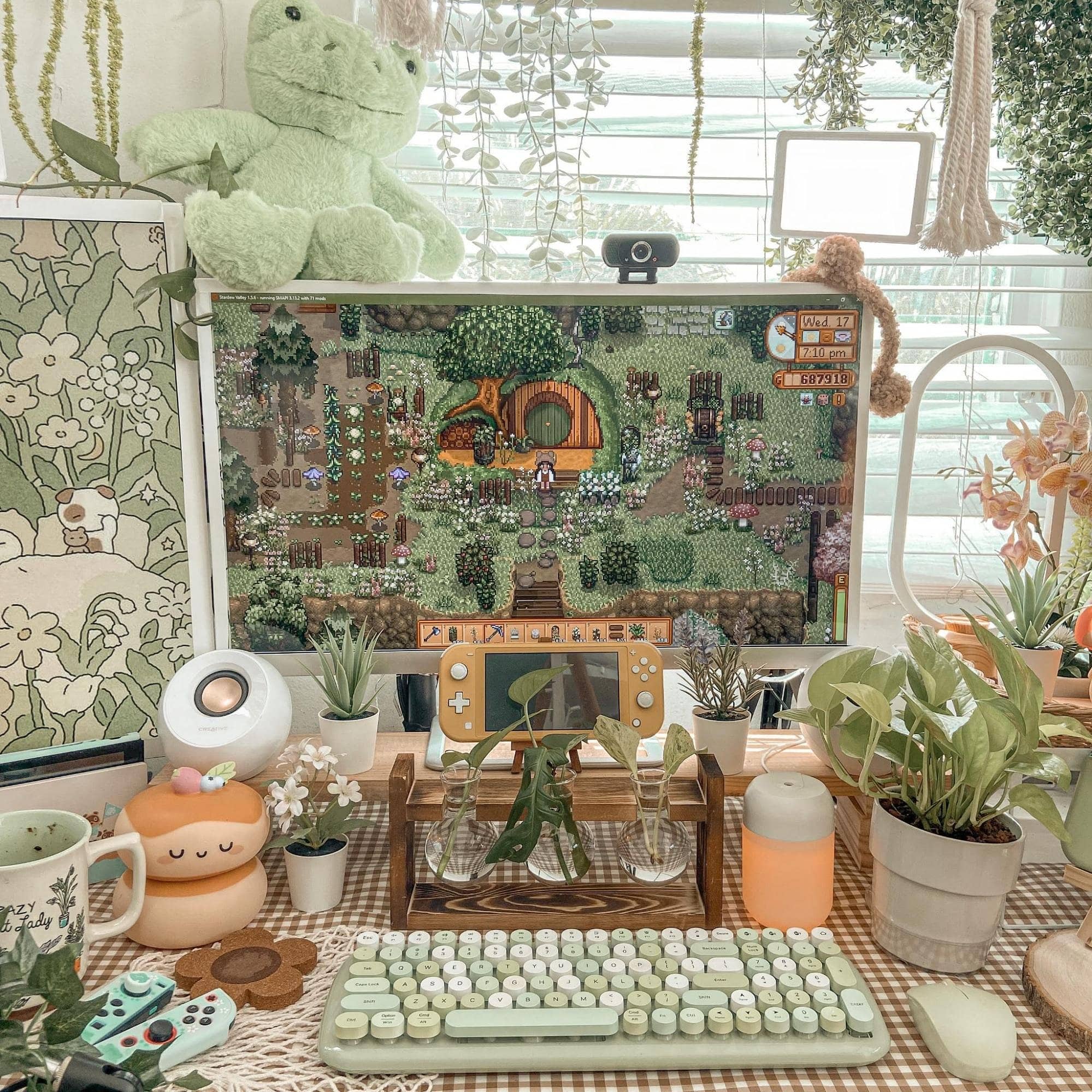 Each day, I divide my time between answering partnership emails, creating content, working on commissions, creating digital art for my Etsy shop, Twitch streaming three hours a day three times a week, and working on my small business.
I spend approximately five to six hours a day working at my desk. That's why I prioritise having a space I truly enjoy.
Other than hanging out with friends, family and my fur child, I like to spend my free time playing video games on my consoles or PC.
Occasionally, I play games. Some of my favourites are Stardew Valley, Sims 4, Minecraft, and a bunch of indie games.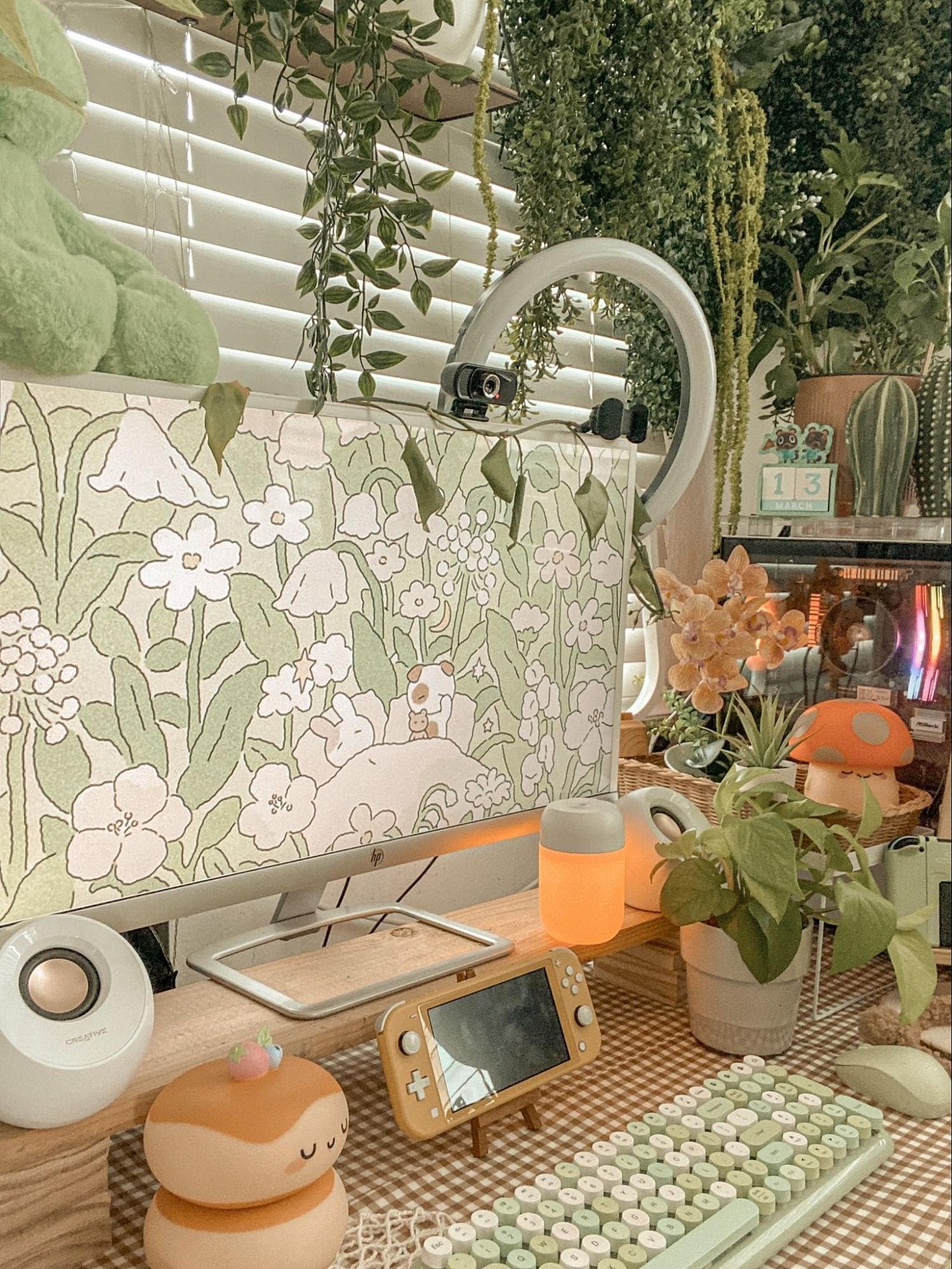 I've been working from home since COVID-19 hit in 2020, and I've graduated from college since then.
As a gaming content creator, the pandemic has definitely affected me.
It showed me that I could do things I enjoy.
I learned how important it is to have a space where you feel comfortable and happy.
It dawned on me that I don't need to go outside to seek pleasure if I already have it at my fingertips.
Thanks to the Internet, you can join a community and make friends sharing the same interests from your own home.
Your tips for working from home?
The most important tip is to have a workspace where you can concentrate and keep all the things you need close at hand.
Start your day early so you have enough time to prioritise all your daily tasks.
Keep an organised weekly schedule and work on them in order of priority.
What helps me to stay focused is putting some lo-fi music in the background so I don't get distracted by anything else.
I also take breaks when I need them so I don't get overwhelmed.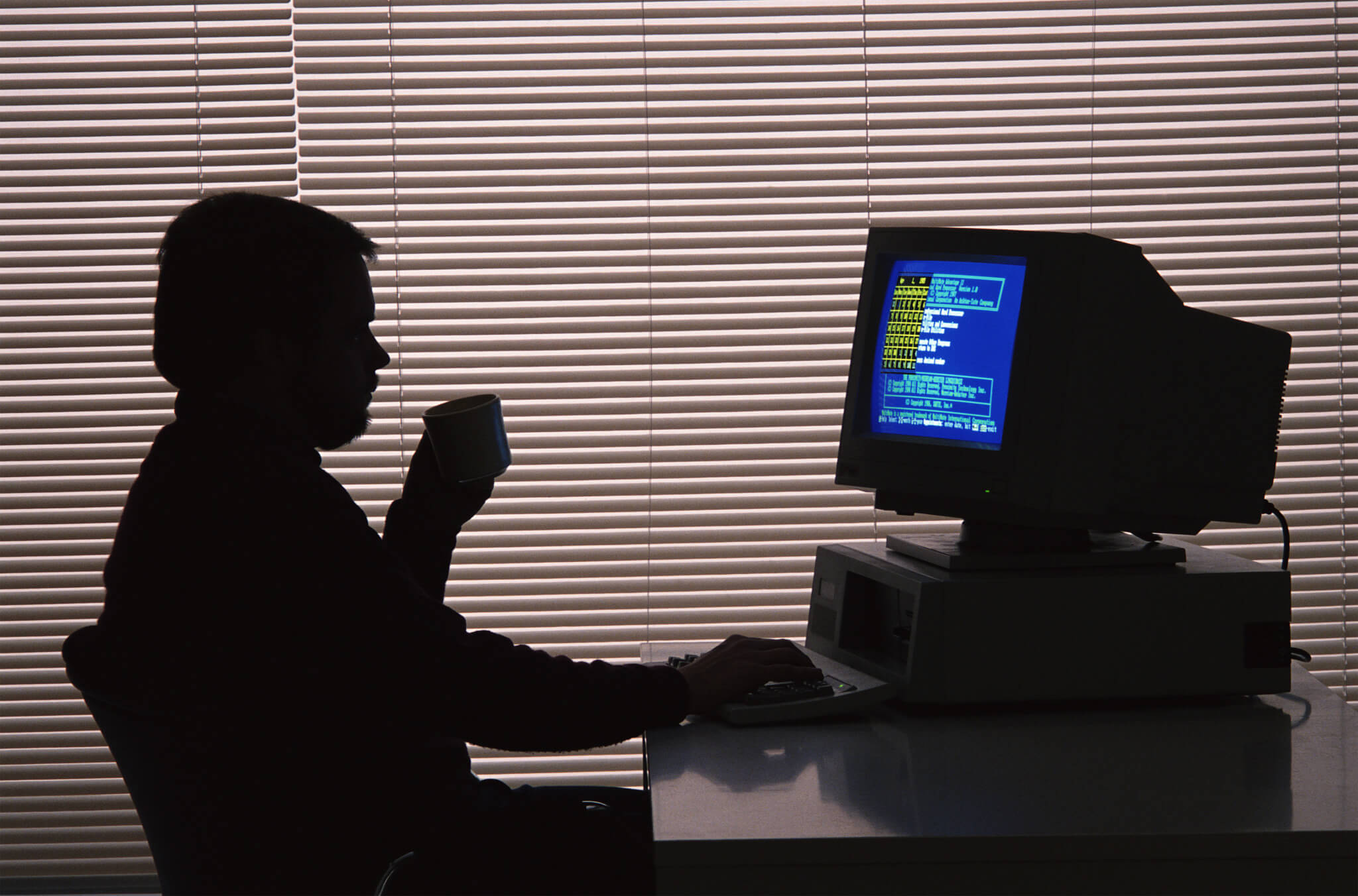 We're a reader-supported publication. This article might contain affiliate links. It means we may receive a commission if you click a link and buy a product that our maker has recommended. The interview was done independently.
Join 1000+ Curious Readers.
Every Sunday evening, get an *in-depth* workspace tour from a random corner of the world.
---